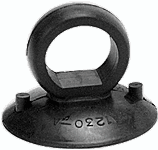 Click To Enlarge
Little Grabber uses one finger to lift small pieces of glass off of a flat surface. Worn on your hand like a ring, this small rubber pad leaves your hand free to hold and maneuver your glass without putting it down.
Made from a tough rubber compound, this lifter has two tabs to release it easily from your glass.
Cup is 2-1/8 inches (54 millimeter) in diameter.
VC1230 Reg.$4.05