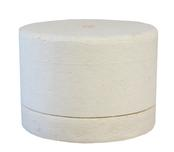 Small size. Firing chamber is 2-3/4" in diameter by 1- 3/4" high.
:Microwave kiln is lined with a high tech composite material especially
formulated to fuse glass in a home microwave 800 watts - 1200 watts.
:2.75" internal fusing platform
:Kiln dimensions 3 1/4" H x 4 1/2" D
 Firing Glass




• Cut a square of kiln paper.




 Microwave Kiln. Place paper on the kiln base. Kiln paper is only




 good for one firing.




• Layer cut glass on top of kiln paper. Leave at least a 5/8"




border around the glass and the edge of the kiln paper. Do 




not allow the glass to touch the sides of the kiln wall or the 




base of the kiln. Glass allowed to touch the kiln base or 




walls will stick and can cause irreparable damage to the 




kiln during the fusing process.




• Carefully place kiln base with glass in the center of microwave




 oven. Place lid on top of the base. WARNING: Never leave 




 microwave or kiln unattended during the firing process.




• Set temperature for the microwave on high. Choose times for




 firing from the chart below. PLEASE NOTE: Every microwave




 oven and kiln will vary. The ranges found in the chart below




 are average ranges. Actual times will vary depending upon




 your microwave oven, the thickness of glass, as well as your




desired results.




Watts Minutes Glass Thickness




800 3 to 4 (2 - 3mm pcs.)




1100 2 to 3 ½ (2 - 3mm pcs.)




1200 2 to 3 ½ (2 - 3mm pcs.)




• When microwave time has expired, use heat resistant gloves or mitts to carefully open




 the lid. If your piece is not fused to your liking, return kiln lid and microwave at 30 second




 intervals until piece is fused. Do not leave the lid off the kiln for extended periods of time




 during this stage. Never touch the glass. Do not heat for more than 6 minutes.
Allowed to cool for about 1+ hours and the pieces is ready to see.

Glass maybe Hot or Cold (BE CAREFUL)
Reg.$100.00
ups Shipping
Item #: DTI Microwave Small Kiln