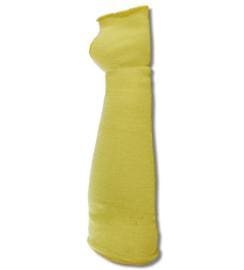 SOLD EACH SLEEVE, 18 DOUBLE-PLY, W/THUMB HOLE
FusedGlassWarehouse knows the importance of people's arms, and offers its high-tech, proven line of protective sleeves to customers with confidence.
Para-Aramid/Cotton Blended Sleeves have all the protective qualities of para-aramid and the comfort of cotton combined in one sleeve. The 2-ply machine knit sleeves have cut-resistant para-aramid tubing on the outside and comfort-enhancing natural cotton tubing on the inside along with a thumb slot for added security and fit. Cut-resistant and tough yet lightweight, comfortable and cost-effective, this blended construction offers ANSI Cut Level 3 protection with savings over 100% Kevlar or 100% para-aramid knit styles.
Para-aramid/cotton blended, 2-ply, machine knit construction
Para-aramid tubing on the outside and natural cotton tubing on the inside
Cut and abrasion-resistant yet lightweight and comfortable
18" length
Thumb slot for added security
ANSI Cut Level 3
Significant cost savings over 100% Kevlar® and 100% para-aramid knit styles
Reg.$9.50 each
Item #: Para-Aramid Sleeve 18'' D-PLY